Here's what people are saying about "Senior Comedy Afternoons!" Real, actual comments by audience members and corporate clients:
ROD from Anaheim said, "Keep up this show!"
BETTY from La Habra said, "Thanks for remembering us seniors!"
ROSIE from Brea said, "Keep us laughing!"
HILDA, from Fullerton said, "Thanks for the senior moments!"
"Leaving with a smile! Hello Bonnie: David and I attended the second December show and have never enjoyed anything so much that was geared especially to our age group. All of our friends want to go to your show and have requested the dates. We seniors especially enjoy something that is geared specially for our wants, needs, and humor, and, of course, the price was right!!! Please keep up with your great ideas, and we are waiting for your next show. We will attend and bring all the friends with us. Go Girl!!!!" – David and Virginia Bousquet, Fullerton, CA
"Great time, Great Party!" – Pearl Huntley
"Fantastic time" – Caroline Palanjian
"Keep up the good work! Thanks!" – Trudy Brunk
All the reviews from the attendees were very positive! Everyone I spoke to who was in attendance loved the show. Thank you to you and your team for giving everyone a memorable afternoon. In one of our senior's reviews, she ended her praise by singing "Que Sera," she loved the sing-a-long. Meghan B., City of Redondo Beach
"It's about time something like this is available to us." – Corrine B.
"We're here celebrating our friend's 97th Birthday. She was a Rosie the Riveter!" – Patty D.
"Bonnie consistently puts on the greatest shows. There's a lot of bang for your bucks with her!" – Pat O
"Love the theme shows!" – Jan C.
"Good food, great show!" – Gay S.
"Delicious beef brisket, great dancers, and comedian. I would highly recommend to friends!" – Kathy V.
"Thank you very much for putting these shows on!" – Beverly N.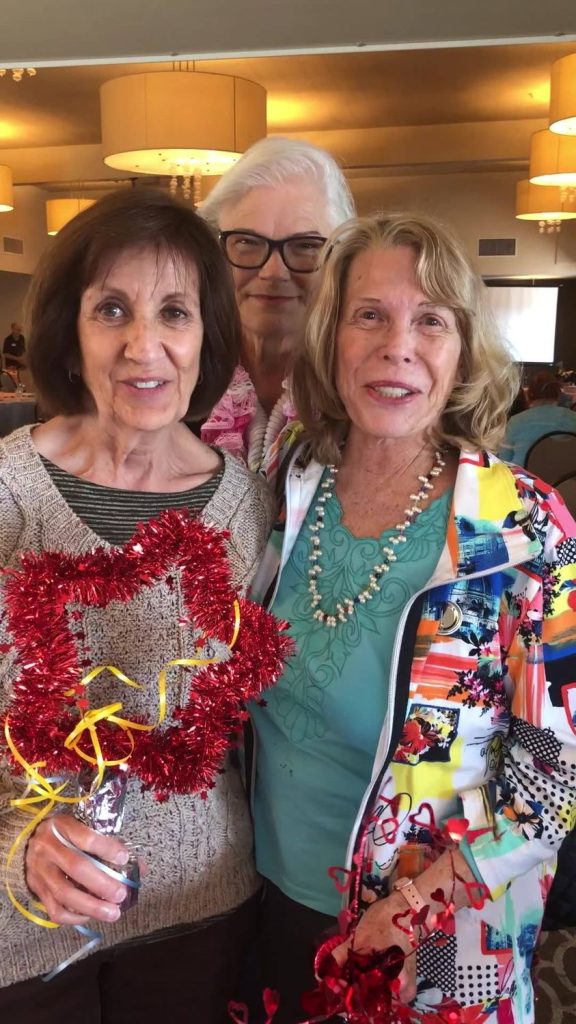 "Excellent show, great time" – Gregg O.
"Had fun, good food, great comedians, fun, fun, Thank You!" – Leo V.
"Awesome comedians, loved it!" – Patti L
"Great party, Fun, Fun, Fun!" – David T
"I've enjoyed these SCA's for years. Bravo Bonnie and Emile" – Max B
"Senior Comedy Afternoons lead by Bonnie Barchichat came recommended from our company. We hired them to do our senior luncheon at the Rio Hondo Golf Club in May, and they came through with flying colors! Our audience was thrilled with the production. Bonnie and her staff are very detail-oriented, and a pleasure to work with. If you're searching for your next event, you have found it!" – Christa Gabler, Events Coordinator, CareMore Health Plan, Cerritos, CA
"It was such a pleasure to attend a comedy show that did not have the 'four-letter words' in every sentence, how refreshing! The comedians were great, the food was delicious and was more than ample. What a delightful afternoon!" – LaVerne Unser, Anaheim
"Thoroughly enjoyed the show, anyone who misses one of Bonnie's shows is surely missing out!" – Cathie and Guy Fluck, Fountain Valley
"I loved, loved, loved the show." – Jackie Maleck
"Very good!" – Edith Gold
"Great show!" – Martin Kassap
"Had a good time!" – Harriet Weiss
"Keep on doing SCA; we like them." – Elizabeth Gurr
"I have been in attendance at other Senior Comedy Afternoons. They are great! All Senior Centers should bus seniors to the shows!" – Mary Alice Sedello
"Really great, keep it up!" – John Jones, Diamond Bar
"Had a great time!" – Jacque Stern, Venice, CA